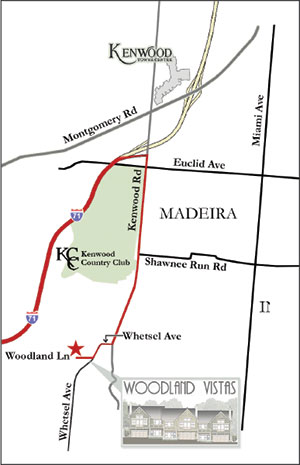 Brilliantly Located
The most beautiful townhomes Cincinnati has to offer are nestled conveniently by the communities of Kenwood & Madeira. Woodland Vistas is within minutes of the upscale Cincinnati neighborhoods of Indian Hill, Mariemont, Madeira, Kenwood and Hyde Park. This spectacular enclave of 16 luxury townhomes offers stunning Ohio River Valley views spanning from the Little Miami all the way to The Great American building downtown, yet is only 1.5 miles south of I-71 and the Kenwood shopping and restaurant district. The area's top schools, 7 Hills and Walnut Hills, are a quick 10 minutes away.
Directions
Take I-71 to Montgomery Road if heading South or Kenwood Road if heading North, go South on Kenwood Road, 1 mile south of the Kenwood Country Club turn right at the Columbia Township Administration building onto Whetsel and your destination is around the bend on your right.
Click Here For Directions from Google Maps
About The Area and Surrounding Locations
Columbia Township
Columbia Township is a self-described "Inland Archipelago" (Remember grade school geography? An island group or chain separated by body of water.) Except in this case, it is a group of nine neighborhoods surrounded by a "sea of municipalities." Woodland Vistas is located adjacent to Madeira – the city line is in the street behind us – and is very close to Indian Hill, Mariemont and Kenwood. Stay with us….now the good stuff:
Woodland Vista homeowners will enjoy the thriving Kenwood and Madeira business districts with traditional businesses, great dining choices, exciting entertainment venues and unmatched convenience to expressways and downtown. Hamilton County Sheriff's department regularly patrols the area and Columbia Township has its own maintenance department that takes excellent year round care of the roads. New residents also enjoy an added bonus: no local earnings tax or property taxes!
Website: columbiatwp.org
Kenwood
1.5 miles from Woodland Vistas, Kenwood is centrally situated. One of Cincinnati's best-rated malls, Kenwood Towne Centre offers shoppers superb department stores (including Macy's and Nordstorm), as well as more than 180 retail and specialty shops (such as Sephora, H&M and The Sharper Image) – with valet parking available. Jewish Hospital with world-class service is adjacent to the mall. Kenwood Theater is a popular spot to take in a movie and enjoy a glass of wine or cocktail as well as numerous restaurants ranging from fast-food to upscale elegant to satisfy every palette – including everyone's favorite Cincinnati ice cream, Graeter's! All your favorites so close by….an intrinsic part of the lifestyle you'll enjoy at Woodland Vistas.
Madeira
One of the premier communities in Greater Cincinnati, Madeira has a small town feel with great conveniences for Woodland Vista families including Krogers for all your grocery shopping needs, a Starbucks when you've GOT TO have a latte…STAT! Specialty boutiques, Frieda's desserts (a mouth-watering bakery with a Master Pastry Chef hailing from Dusseldorf Germany), Ferrari's Little Italy authentic Italian restaurant, banks, hardware store and more are just moments from your door.
Mariemont
A quick drive from Woodland Vistas puts you in the middle of Mariemont- one of the old, quaint areas of the city. Mariemont townhomes, classic properties, restaurants and entertainment all help rank the city as a favorite of locals, and out-of-state residents. It will be high on your list when it comes to entertaining guests and enjoying a little down time. Catch a movie at the Mariemont Cinema, dinner at The Latin Quarter or Mariemont Inn and much more…
Indian Hill
Affluent neighborhood of nearly 20 square miles with a rich history and acres of mature wooded areas. If you are a bicycle enthusiast (you know, fresh air exercise, all those things that are good for us?) a portion of the Loveland Bicycle Trail goes through Indian Hill. Grab a friend and explore the trail….you won't be disappointed!